At Ocean World Travel, we're proud to be one of the UK's leading Cruise Specialists. For more than 20 years, we've been helping our fantastic customers find the perfect cruising holiday - and that's why many of our customers return to book with us year after year. We don't just expect to offer the best price possible, we're committed to providing the best service too.
Family owned and run, and now moving in to our second generation with Arran and Calan, you could say cruising runs in the blood here at Ocean World Travel - and you wouldn't be far wrong. Founded on the living room floor of a semi-detached house in Birmingham, way back in 1995, we've come a long way since.
We grew rapidly, and moved down to Winchester in 2003, in order to keep expanding. And we did just that. By 2005, we decided that we need to be on the front line, and took up our office in the 'cruise capital of Europe', Southampton.
Today we established a travel agency in the affluent area of Chandler's Ford, just a short drive from Southampton. Now we are helping our customers to book their holidays too, but our focus on cruises remains as well as our passion.
---
Services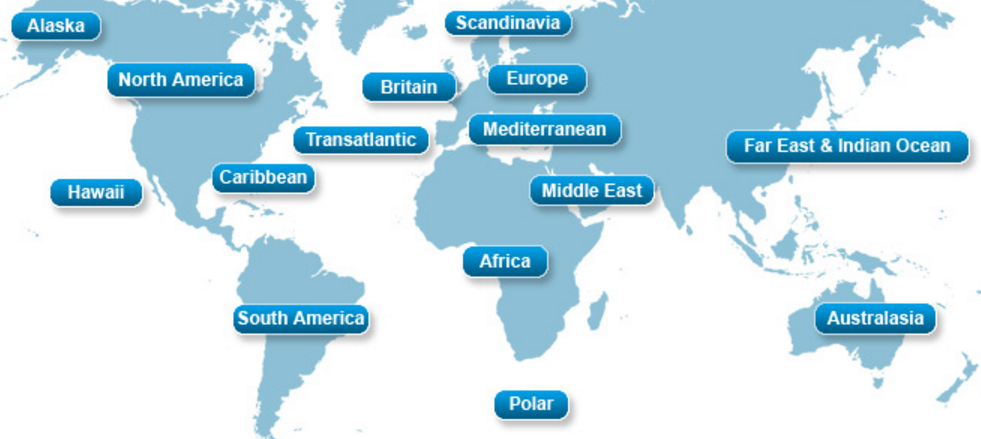 There are hundreds of cruise destinations to choose from.
Africa: South Africa is an exhilarating, spectacular and complex country. With its post-apartheid identity still in the process of definition, there is undoubtedly an abundance of energy and sense of progress about the place. Travellers too are returning to a remarkable land that has been off the trail for way too long. The infrastructure is constantly improving, the climate is kind and there are few better places to see Africa's wildlife. But if you want to understand the country, you'll have to deal with the full spectrum.
Far East & Indian Ocean: Adventure looms large in this vast and steamy archipelago, where the best of southeast Asia's spicy melange simmers tantalisingly. Heady scents, vivid colours, dramatic vistas and diverse cultures spin and multiply, their potent brew leaving your senses reeling. Indonesia's cities are in a constant state of urban evolution, where dense populations, technology and construction live in hectic symbiosis. But most of the archipelago's territory remains unexplored, concealing a wealth of cultures and a myriad of landscapes.
Alaska: It isn't just the mountains, sparkling lakes or glaciers that draw travellers to Alaska but the magic in the land, its mystical boreal pull. It's a place that ignites the imaginations of people who live in the city but long to wander in the woods. The expansive grandeur of the state will help you put the size of your snowshoes in perspective as you marvel at the sight of a brown bear at full amble, or kayak past a tidewater glacier shedding icebergs the size of small cars. And it needn't cost you a fortune.
Mediterranean: Once away from the holiday costas, you could only be in Spain. In the cities, narrow twisting old streets suddenly open out to views of daring modern architecture, while spit-and-sawdust bars serving wine from the barrel rub shoulders with blaring, glaring discos. Travel is easy, accommodation plentiful, the climate benign, the people relaxed, the beaches long and sandy, the food and drink easy to come by and full of regional variety. More than 50 million foreigners a year visit Spain, yet you can also travel for days and hear nothing but Spanish.
And many more!!!
At Ocean World Travel we provide also the increasingly popular river cruises. Going on a river cruise is a different experience compared to ocean cruising. Ships are small and intimate, you disembark in the heart of town and villages and normally nearly everything is included in the price such as drinks or excursions.
We sell cruises to families too, thanks to our long experience, we are able to advise on the best cruise lines and cabins for families.
In addition, we offer an additional discount on the price of the cruise and our always appreciated customer service.
Reviews and Ratings
We do not have any reviews about Ocean World Travel available right now.